Shadowboxes! They are gorgeous and look like a million bucks and a million hours spent.
In fact they are quick and easy to make if you know what to use. I've been making these for a while and after much experimenting (and hair pulling) this list of papers and settings is what I stick with.

I test all of my templates personally. If the template comes with SVG and other machine cutting files I have cut it myself on my Cricut to make sure it will cut well for you.

I'm sharing with you here the papers and cut settings that I use on my Cricut Maker to get great results almost every time. (Almost… because sometimes the paper cutting odds are not in our favor.)

Keep in mind the list below are the things that I use. Your machine and the items you like to use may be different. This is just to give you a point of reference and to assure you that my intricate boxes and ornaments can be cut with a craft machine. (I promise… if you can't get a good cut… it's not the file. It's either your machine settings, your mat or your paper.)

Machine I use for cutting:

Cricut Maker. She's a sexy beast.
Fine Point Blade. (I replaced the fine point blade after 6 months of heavy papercutting use. They last a long time. I only use it for cutting paper.)
I started with an Explore Air 1 and had great results as well using equivalent settings .

Mats:
Blue or Green mat, made by Cricut – Brand new Blue is the best, slightly used Green is good too – I lay a sheet of paper down and pull it off a couple of times. Some people do it with a t-shirt or soft fabric.
If the mat is not sticky enough small intricate cuts will shred. The paper lifts off the mat and tears. Swearing ensues.

I have used some generic green mats from Amazon and they work okay, but I noticed that the ones I tried leave a little bit of stickiness on the back of the cardstock when you remove it, so the little bits stick to my hands. No big deal, but it's annoying. I don't think they stay sticky as long as the Cricut brand.

I wash my mats with dish soap and water when they get too unsticky and it brings them back to where they need to be, but not as sticky as new. Do not scrub too hard. Gentle!
If I'm in a hurry and don't have time to wait for the mat to dry, I use a non-alcohol wipe to remove dirt and fibers from my mat.

Stick your paper down!

I use a vinyl application squeegee to rub the whole surface of the paper onto the mat. Squeegee on Amazon, so you can see what it is.
Some use a brayer to do the same thing. Brayer on Amazon
Some use the Cricut scraping tool. It's better than nothing, but too sharp for me.
Some people use just their hands. These people will have problems with paper lifting.
Papers I use:

Use solid core cardstock. If the paper has color on each side with white in between, it will make you sad.
The paper needs to be non-fibrous and have a sort of crispness about it. Construction paper doesn't work.
If you are using cardstock that leaves dusty bits of stuff on the mat and shreds when attempting small cuts – that's the stuff that doesn't work well. It's a bummer.

Textured papers: I stay away from these except for larger less intricate layers.
If you really want to use it, turn the textured surface down.

Glitter paper: I respect your courage.
I do not cut intricate things with glitter card very often. Cut with the glitter side up and gently lift to make sure it's cut all the way through before removing the mat from the machine.
Sometime when I want sparkles, I cut 65lb cardstock, spray with adhesive spray and add the glitter after cutting.

Recollections 65lb cardstock from Michaels
So many colors! I love the foil.
All colors cut well for me on the Cardstock for Intricate Cuts or Light Cardstock setting. The darker colors like black, red and navy and the foil colors sometimes have to be cut twice. Push the C button again without removing the mat from the machine.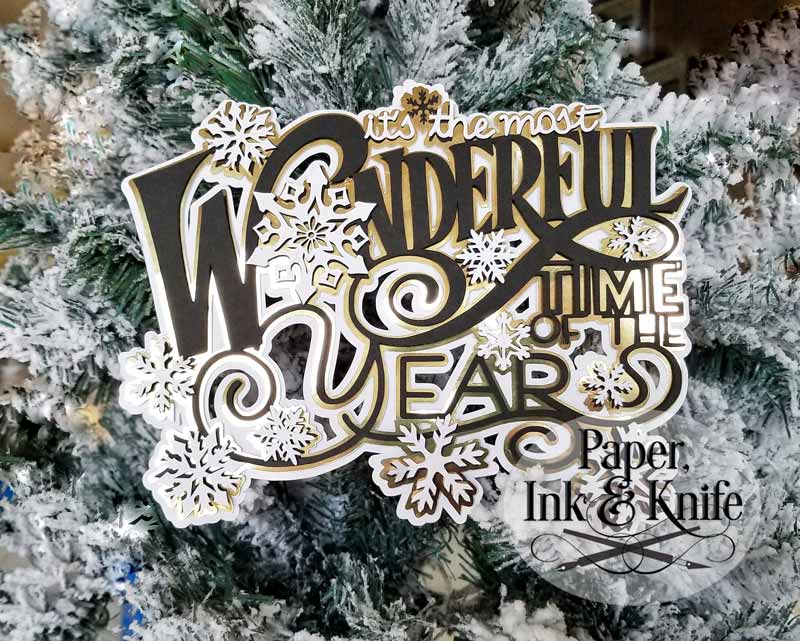 Cut from Recollections black, gold foil and Neenah white paper.
It's a freebie you can download here Most Wonderful Time

Neenah 67lb Exact Vellum – white
I buy the 11 x 17 size, but it's also available 8.5 x 11
I buy it from Amazon here: NeeNah Paper
This is my go-to paper for a lot of things. Works well for hand cutting. I use it to print coloring pages too. Takes colored pencil like a boss and it's fairly inexpensive.
Used for this Heart Shadowbox Template.
Neenah Astrobrights 65lb cardstock from Amazon. It's the bees knees. 250 sheets 8.5 x 11 lots of colors.

Springhill 65lb cardstock from Amazon. Also the bees knees. 250 sheets 8.6 x 11 beautiful pastel colors.

Fabriano Tiziano paper – Find it here at Blick
Comes in a big sheet 22 x 28″ that I cut down to the size I need
Great color selection. Also great for cutting by hand.
I use this mostly for bigger, single layer cuts.

Test on small scraps of paper or a tiny cut in the corner of your sheet of paper before wasting an entire ream of full size sheets.

Machine settings:
So important as we all know.
As I stated above – I use a Cricut Maker. Use this as a reference starting point for the machine you are using.
I started out using a Cricut Explore Air and used the light cardstock setting with that too.

I have recently started using the Cardstock for Intricate cuts setting and it's perfect for most of the papers I use. It automatically cut twice, but not too deep, so most of the time it cuts just right no matter what color I am using of the 65lb cardstock.

For the Neenah 67lb paper and other 65lb papers I cut on Light Cardstock setting. It is just about perfect. (If you are using a different machine, find the setting on your own machine that seems the closest to what this would be.)
Some colors like black and red require the Light Cardstock with More and sometimes I cut it twice – press the C cut button again without removing the mat. Just lift a corner of a cut area to see if it needs to be cut again.
For Cricut Card I cut on the regular Cardstock setting.
Often I have to leave the mat in and push the button to cut a second time.
If the cut setting is too deep, some shredding and frustration can happen.
Fabriano Paper – Cardstock setting and cut twice if needed.


BLADE:
The fine point blade that comes in your machine. If replacing the blade I have stayed with Cricut brand Premium Fine Point blade. I cut a lot of paper. A Lot. I am on only the second blade since purchasing my Maker in May 2020. They last a long time.

If you think you might need to change your blade… you might need to change your blade.
First, though, check the blade housing- holder thing- to make sure there's not paper or vinyl or anything else in there jamming things up.

If you need a new blade and you're not sure which to buy – It's this one on Amazon:
Cricut Fine Point Blade

Wrapping this up:
These are the settings that work for me. As I said, it's a starting point. Cut small test cuts in the corner of your paper before committing to cutting the entire sheet. Same for when cutting vinyl.

Lift a corner of where you have cut before removing the mat from the machine. Cut again, if necessary.
When cut correctly, most of the tiny inner pieces should stay on the mat when you take the bigger section off. If you are getting ragged edges or having to pick out all of the smaller pieces, it's not cutting through. It's normal to have a few stragglers that you have to push out.


I encourage you to try different papers.
Experiment with your settings.
Use spray paint to make different colors!
HAVE FUN! It's supposed to be fun.

NOTE: I have included several links on this page. These are NOT affiliate links I don't receive any compensation when you click on them.